A WEENIE'S TALE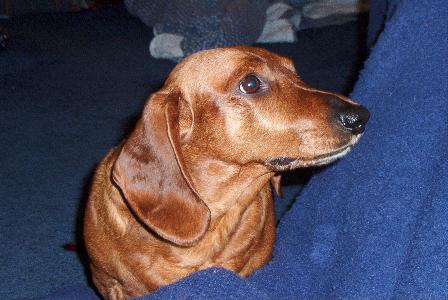 Welcome to my web page. I'm Willard (the wonder weenie) and I'm a standard size weenie dog (by breeder's terms that is.........I'm actually a little chubby....in the 27 - 30 lbs range when I was younger but I've slimmed down to a lean & mean 24.7 lbs!!) . I'm 14 1/2 years old and quite handsome as you can see. I was born on May 8th , 1991. My Dachshund Dad's name was Sir Samson VIII, and my Dachshund Mom is Lady Candyapple. I'm thoroughly spoiled rotten by my human Mom ......and my human Dad, too, even though he likes to pretend I get on his nerves with my woofing & barking. He doesn't fool me though.......he's a good ear petter and I can tell he really likes me. Who wouldn't?!?! When Mom's not around he always tries to get me to sit with him.
I thought it was time that someone expose the truth about life as a weenie. The stress level is astromonical...........every day I have so much to do...............sleeping, eating, resting, BARKING, begging, sleeping again, howling, shredding tissues, dumping over the garbage, eating again, BARKING, chasing critters, begging, resting, snacking, BARKING, running after anyone within a million feet of my house, eating AGAIN, whining, sleeping AGAIN, etc. You get the picture. It's a dirty job but someone has to do it!
Well, anyway, here's some pictures of me.........I know you'll enjoy looking at them.......I do!
I'll be adding new pictures occasionally, so check back !!
P.S. I hope my Mom doesn't catch me on the computer again. Last time she caught me I was sending e-mail to my Chihuahua girlfriend, CC, and I got grounded for a least a minute.